Friday Report - February 3, 2023
This week in the General Assembly, the Senate debated and passed S. 39, an educational scholarship bill that would allow public funds to be used for students to attend private and religious schools. The Senate also debated S. 164, a bill that would repeal the Certificate of Need requirement for certain health care facilities. The House spent the week debating and passing H. 3503, a bill creating the criminal offense of trafficking in fentanyl, while also taking testimony from state agencies in budget subcommittees. Bills of interest are discussed below:
Revenue, Finance and Economic Development
Trafficking Fentanyl – H. 3503/S.153. H. 3503 would create the criminal offense of trafficking in fentanyl and would provide substantial penalties for such offenses. The House debated the bill for several hours and adopted several amendments on the floor. The House gave H. 3503 a second and third reading and the bill has been referred to the Senate Judiciary Committee.
S. 153 would add fentanyl-related substances to the list of Schedule I controlled substances and would create the felony offense of trafficking in fentanyl. The bill would also increase penalties for trafficking in fentanyl compared to other drugs and would establish a mandatory minimum sentence. The Senate Judiciary Committee gave S. 153 a favorable report and the bill is now pending second reading on the Senate calendar.
Structured Settlements – S. 259. This bill is intended to regulate settlement companies and require them to be registered to protect payees from high interest rate settlements. It also adds some criteria to be considered for court approval of a structured settlement transferred to a settlement company. The Senate Judiciary Committee carried the bill over for additional information.
Heirs' Property Commission – S. 436. This bill establishes the "Heirs' Property Commission," which was created to address the legal and economic issues associated with heirs' property. The Commission, which is comprised of certain stakeholders, including a member representing county government, appointed by the Governor, will collect data by the Commission to include information regarding the number and total acreage of lots that are designated as heirs' property in each county; the number and total acreage of heirs' property land sold at tax sales and whether the purchaser is an heir; the economic impact of heirs' property, including loss of economic development due to issues with land designated as heirs' property; non-profit groups that provide services to owners of heirs' property throughout South Carolina; and resources available to assist families to clear title of the heirs' property and to prevent further occurrences of heirs' property. A Senate Labor, Commerce and Industry subcommittee adopted two technical amendments and gave the bill a favorable report, as amended. S. 436 will be on the next full committee's agenda.
County Government and Intergovernmental Relations
State Health Facility Licensure Act (Certificate of Need) – S. 164. This bill overhauls the State Certification of Need and Health Facility Licensure Act by repealing the Certificate of Need (CON) provision. SCAC supported legislation last session that would reform the state's CON to limit the appeals process, reduce the projects that require approval, and streamline the system. Last session, the bill was passed by the Senate (S. 290) and was forwarded to the House; however, the stakeholders could not reach a consensus.
This week, the Senate debated S. 164 extensively. Although S. 164 repeals the CON provision, the bill now imposes the following conditions:
Defines the word "hospital;"
Provides that the Medical University of South Carolina (MUSC) must still obtain a CON or licensure;
Provides that nursing homes and must still obtain a CON from the Department of Health and Environmental Control (DHEC) before undertaking certain health services;
Creates a "Certificate of Need Study Committee" to examine the effect of the repeal of the CON program on the quality and quantity of access to healthcare in rural portions of South Carolina;
Creates a severability clause;
Provides that a person or health care facility is required to obtain a CON before undertaking the construction or establishment of an ambulatory surgical facility with more than eight operating rooms; and
Provides a hospital employment agreement provision.
The Senate gave the bill second and third readings, and S. 164 has been forwarded to the House.
Permit Extensions – H. 3209. As originally drafted, this joint resolution would provide for the extension of certain permits, certificates, and other governmental approvals affecting economic development within the state. For development approvals that are current and valid at any point between January 1, 2018, and ending on December 31, 2023, the running of the clock regarding the period of validity and any associated vested rights are suspended. The House adopted amendments this week to delete references to several state and federal permits that cannot be extended beyond a period of five years. Examples of permits that were removed from the bill include approvals of stormwater management plans that are granted by a local government or DHEC and 401 Water Quality Certification Permits that are issued by DHEC.
An additional amendment was also adopted so that the legislation no longer impacts existing county "development plans" and building permits. The amendment further defined the term development plans and also shortened the start date for permit extension from January 1, 2018, to January 1, 2020. H. 3209 received second and third readings this week and was referred to the Senate Judiciary Committee.
Examination of County Offices – H. 3122. This bill deletes an archaic provision in the law that requires the Attorney General's office to examine the offices of the clerks of court, register of deeds, and sheriffs to ensure they are in compliance with their official duties. H. 3122 passed the House and has been referred to the Senate Judiciary Committee.
SCAC's Counties Connect: A Legislative Action Day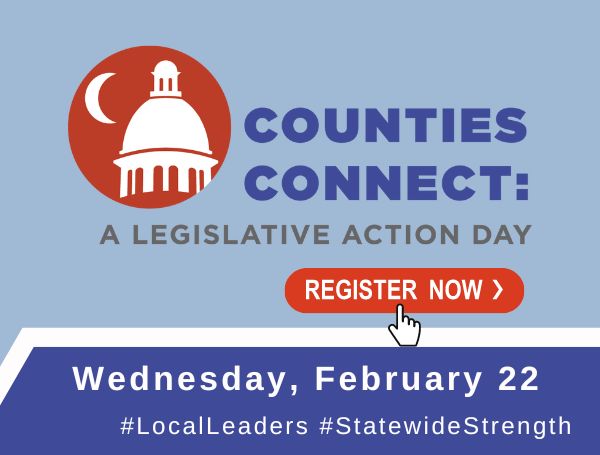 Join your colleagues from across the state for SCAC's Counties Connect: A Legislative Action Day on Wednesday, Feb. 22, at the USC Alumni Center in Columbia. This event provides an excellent opportunity for county leaders to connect with local delegation members and advocate for issues important to their counties. All county officials are encouraged to participate in the daylong event that includes a legislative briefing, a trip to the State House during session, lunch, and an evening reception with legislators at the Palmetto Club.
Learn more and register online.
Reserve your room at the Hilton Columbia Center by Feb. 3 to get the special SCAC block rate.
Stay in town for more learning opportunities. The Institute of Government for County Officials and Council Chairperson Workshop will be Feb. 23 at USC Alumni Center. Learn more and register here.
---
Newly-Introduced Legislation
View/Download Full Text for Newly-Introduced Legislation
You can also go to www.scstatehouse.gov and click on "Legislation," then "Introduced Legislation."
Note: If you would like to offer comments to the SCAC staff, please call us toll-free at 1-800-922-6081, fax to (803) 252-0379, or send an email.