County Information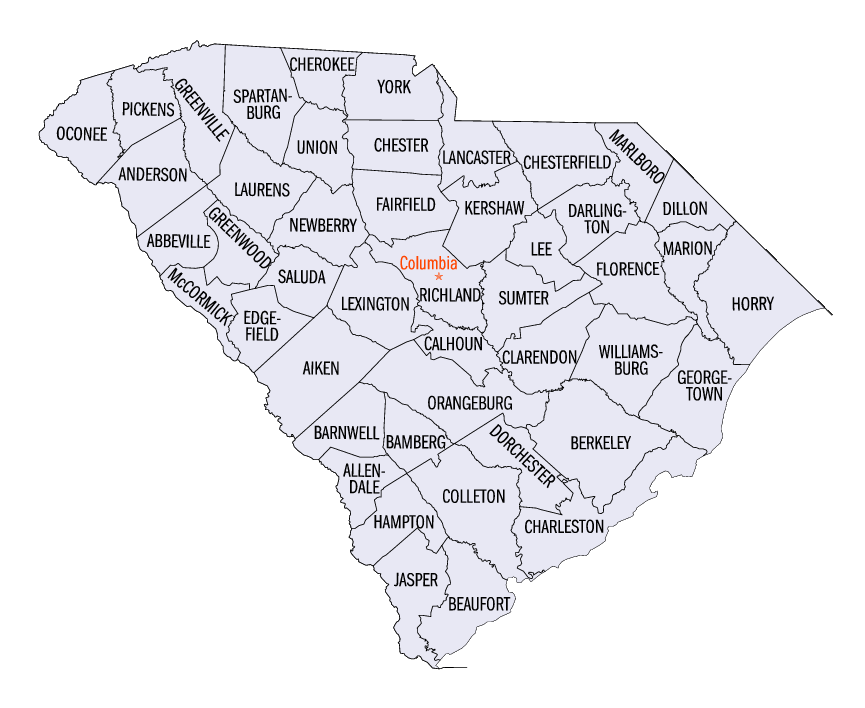 There are 46 counties in South Carolina ranging in population from 8,039 (Allendale County) to 525,534 (Greenville County).
Counties operate under four forms of government: council (six counties); council-supervisor (four counties); council-administrator (34 counties); and council-manager (two counties). Under the council form, the council has responsibility for policymaking and administration. Under the council-supervisor form, administrative responsibility resides in an elected supervisor who serves as chair of council, but only votes in case of a tie. In both the council-administrator and council-manager forms, administrative responsibility rests with a professional administrator/manager who reports to the council. In the council-manager form, the auditor and treasurer may be appointed by the council rather than elected.
County council members are elected to two- or four-year terms, either at large or by single member districts. All county elections are partisan. Constitutional officers elected to four-year terms are the clerk of court, coroner and sheriff. Statutory officers elected countywide to four-year terms are the auditor, treasurer and probate judge. Some counties also elect a register of deeds.
All counties operate on a July 1–June 30 fiscal year.
| County | 2020 Census Population | Land Area | County Seat | Website |
| --- | --- | --- | --- | --- |
| Abbeville County | 24,295 | 508 | Abbeville | https://abbevillecountysc.com/ |
| Aiken County | 168,808 | 1,073 | Aiken | http://www.aikencountysc.gov |
| Allendale County | 8,039 | 408 | Allendale | https://www.allendalecounty.com |
| Anderson County | 203,718 | 718 | Anderson | https://www.andersoncountysc.org |
| Bamberg County | 13,311 | 393 | Bamberg | https://www.bambergcounty.sc.gov |
| Barnwell County | 20,589 | 548 | Barnwell | https://www.barnwellcountysc.us |
| Beaufort County | 187,117 | 587 | Beaufort | https://www.beaufortcountysc.gov |
| Berkeley County | 229,861 | 1,098 | Moncks Corner | https://www.berkeleycountysc.gov |
| Calhoun County | 14,119 | 380 | St. Matthews | https://calhouncounty.sc.gov |
| Charleston County | 408,235 | 919 | Charleston | https://www.charlestoncounty.org |
| Cherokee County | 56,216 | 393 | Gaffney | https://www.cherokeecountysc.gov |
| Chester County | 32,294 | 581 | Chester | https://www.chestercounty.org |
| Chesterfield County | 43,273 | 799 | Chesterfield | http://www.chesterfieldcountysc.com/ |
| Clarendon County | 31,144 | 607 | Manning | http://www.clarendoncountygov.org/ |
| Colleton County | 38,604 | 1,056 | Walterboro | http://www.colletoncounty.org |
| Darlington County | 62,905 | 561 | Darlington | http://www.darcosc.com |
| Dillon County | 28,292 | 405 | Dillon | https://www.dilloncountysc.org/ |
| Dorchester County | 161,540 | 575 | St. George | https://www.dorchestercountysc.gov/ |
| Edgefield County | 25,657 | 502 | Edgefield | https://edgefieldcounty.sc.gov/ |
| Fairfield County | 20,948 | 687 | Winnsboro | https://www.fairfieldsc.com/ |
| Florence County | 137,059 | 800 | Florence | http://www.florenceco.org/ |
| Georgetown County | 63,404 | 815 | Georgetown | http://www.georgetowncountysc.org/ |
| Greenville County | 525,534 | 790 | Greenville | https://www.greenvillecounty.org/Default.aspx |
| Greenwood County | 69,351 | 456 | Greenwood | https://www.greenwoodcounty-sc.gov/ |
| Hampton County | 18,561 | 560 | Hampton | http://www.hamptoncountysc.org |
| Horry County | 351,029 | 1,134 | Conway | https://www.horrycounty.org |
| Jasper County | 28,791 | 656 | Ridgeland | https://www.jaspercountysc.gov/ |
| Kershaw County | 65,403 | 726 | Camden | https://www.kershaw.sc.gov/ |
| Lancaster County | 96,016 | 549 | Lancaster | https://www.mylancastersc.org/ |
| Laurens County | 67,539 | 715 | Laurens | https://laurenscounty.us/ |
| Lee County | 16,531 | 410 | Bishopville | https://www.leecountysc.org/ |
| Lexington County | 293,991 | 699 | Lexington | https://lex-co.sc.gov/ |
| Marion County | 29,183 | 489 | Marion | https://www.marionsc.org/ |
| Marlboro County | 26,667 | 480 | Bennettsville | https://marlborocounty.sc.gov/ |
| McCormick County | 9,526 | 360 | McCormick | http://www.mccormickcountysc.org |
| Newberry County | 37,719 | 631 | Newberry | https://www.newberrycounty.net/ |
| Oconee County | 78,607 | 625 | Walhalla | https://oconeesc.com/ |
| Orangeburg County | 84,223 | 1,106 | Orangeburg | https://www.orangeburgcounty.org/ |
| Pickens County | 131,404 | 497 | Pickens | https://www.co.pickens.sc.us/ |
| Richland County | 416,147 | 756 | Columbia | http://www.richlandcountysc.gov/ |
| Saluda County | 18,862 | 452 | Saluda | https://saludacounty.sc.gov/ |
| Spartanburg County | 327,997 | 811 | Spartanburg | https://www.spartanburgcounty.org/ |
| Sumter County | 105,556 | 665 | Sumter | http://www.sumtercountysc.org |
| Union County | 27,244 | 514 | Union | https://www.countyofunion.org |
| Williamsburg County | 31,026 | 934 | Kingstree | https://www.williamsburgcounty.sc.gov/ |
| York County | 282,090 | 682 | York | https://www.yorkcountygov.com/ |