Clerks to Council
S.C. Clerks to Council Association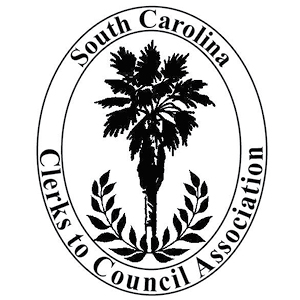 The purpose of the South Carolina Clerks to Council Association is to aid in improving public administration and increasing the proficiency of Clerks to Council and executives of counties in South Carolina. We also want to provide a means for the exchange of ideas and experiences among Clerks to Council; to promote and encourage the education of all Clerks to Council; and to collect, analyze and distribute information relative to county government in South Carolina.
We hope you find this site useful, and we encourage you to contact us with comments and suggestions on how this website can better serve you.
Clerks to Council Training Program Graduates
Congratulations to the following graduates who successfully completed the Clerks to Council Training Program conducted by the Joseph P. Riley Jr. Center for Livable Communities at the College of Charleston and/or successfully met all certification requirements adopted by the S.C. Clerks to Council Association.
| | | |
| --- | --- | --- |
| Donna Allread | Theresa Floyd | Doris Pearson |
| Verger Ashley | Judith Frank | Irene Plyler |
| Barbara B. Austin | Lisa Gray | Betty Pritchard |
| Crystal Barnes | Debbie Harden | Suzanne Rainey |
| Janet B. Bishop | Connie Haselden | Gina Sams |
| Mary Blanding | Tonya Huell | Merri Seigler |
| Susie Boswell | Elizabeth Hulse | Becky Sellers |
| Shryll Brown | Linda Jolly | Tammie Shealy |
| Diana Burnett | Earlene Jones | Rose Shepherd |
| Kenetra Chandler | Theresa Kizer | Lynn Sopolosky |
| Carolyn Clayton-Snipes | Sandy Lawley | Barbara Stark |
| Beverly Craven | Evelyn Lee | Jamie Sue Stephens |
| Ketekash Crump-Lukie | Dorothy Levy | Jacqueline Turner |
| Sabrina Davis | Regina McCaskill | Karen Whittle |
| Linda Eddelman | Sue Myrick | Deborah Ziegler |
| Tammi Epps-McClary | Aline Newton |   |
| Joan Everette | Sandra Padget |   |