Corporate Partner Program

New Opportunities
The South Carolina Association of Counties announces a NEW way to market your company, both efficiently and cost-effectively, to South Carolina's 46 counties! Starting January 1, 2021, the new SCAC Corporate Partner Program provides a comprehensive marketing opportunity to showcase your products and services directly to county leaders. The program also offers companies year-round exposure to county officials and employees at multiple SCAC events and in the Association's quarterly magazine and annual directory.
Access
If you are looking for ways to build and strengthen relationships with county governments, this new program is for you. As a SCAC Corporate Partner, you will be able to maintain contact with county officials throughout the year. You will also be updated on trends in county government and legislative initiatives.
Cost Effective
This new "one stop shop" approach will minimize costs and make it easier to budget because you will be able to support the SCAC as a Partner at one of four levels. Still, "a la carte" options will remain available if you choose to advertise and purchase exhibit space at SCAC's Annual Conference.
SCAC Corporate Partner Endorsement Policy
Participation as a SCAC Corporate Partner shall not imply, nor be considered or presented as, an endorsement by SCAC of any service or product provided by the company. The SCAC Board of Directors reserves the right, for cause shown, to disapprove an application, or terminate an existing participation. Use of SCAC logos, the words "SCAC" and "South Carolina Association of Counties" without the prior authorization and express written permission of SCAC, is prohibited. This includes use by companies who engage with SCAC as corporate partners, exhibitors, or advertisers.
2021 SCAC Terms of Partnership
The completed form is a commitment, subject to acceptance by the SCAC, to be a SCAC Corporate Partner and upon such acceptance will constitute a contract.
Payment. Payment must be received with completed and signed "SCAC Corporate Partner Contract" to be guaranteed. If paying by credit card, please contact Tish Anderson directly at (803)779-7610. No cancellations or refunds will be issued after receipt. Upon request, companies will be allowed up to 30 days to pay by check. If full payment is not received within 30 days, all benefits will be terminated. The program will be run on a calendar year basis beginning January 1 through December 31.
Event Attendees. Complimentary or discount registration is included in each level. SCAC staff will reach out to the event contact listed prior to each event.
Advertising. Complimentary or discounted advertising in SCAC publications is included in each level. Stuart Morgan will reach out to the advertising contact listed.
Event/Advertising Deadlines. Please note that deadlines will apply to all complimentary and discounted registrations and advertising. Failure to meet these deadlines constitutes forfeiture of the partnership benefit. For specific questions regarding advertising, please contact Stuart Morgan at smorgan@scac.sc.
Exclusive Benefits. Companies interested in the SCAC Corporate Partner Program are highly encouraged to sign up early. Exclusive benefits will be available on a first-come, first-served basis.
A La Carte Options
Advertise in County Focus Magazine and join many other advertisers who already know that it's one of the best ways to sell products and services to South Carolina's 46 county governments. Target more than 1,500 members of the South Carolina Association of Counties, the only organization dedicated to statewide representation of county government in South Carolina.
County officials in South Carolina read County Focus, because it's the only publication in the state that focuses on counties, legislation affecting counties, and successful county programs, projects, and activities. This award-winning magazine also publishes articles by U.S. Senators and Congressmen concerning important issues facing county officials across the state.
County Focus Magazine Advertising Deadlines
March 15 Number 1 (Spring Issue)
June 15 Number 2 (Summer Issue)
September 15 Number 3 (Fall Issue)
December 15 Number 4 (Winter Issue)
South Carolina's Directory of County Officials identifies all elected and appointed county officials in the state. This popular publication also identifies SCAC's Officers, Board of Directors, Past Presidents, and corporate supporters; regional councils of government; federal and state officials; and members of the S.C. General Assembly. Addresses and telephone numbers are included for county officials, state officials, and members of the General Assembly.
Directory of County Officials Advertising Deadline
For additional information regarding advertising in the magazine or directory, please visit our publications page or contact Stuart Morgan at smorgan@scac.sc.
Exhibit Booths
Exhibit Booths are available each year during SCAC's Annual Conference. SCAC Corporate Partners will have the opportunity to commit and, based on the level of commitment, select their booth location. If any booths remain available after May 1, companies who are not SCAC Corporate Partners may reserve a booth on a first come, first-served basis. We expect to have some 600 county officials in attendance. Each year, the exhibit hall sells out quickly, so we highly recommend you join the SCAC Corporate Partner Program to ensure you receive a booth. Exhibitors may choose from the following size booth: 8X6 at $800 or 10X6 (limited) at $850. The booth fee includes two attendees.
2021 Annual Conference Date/Location:
August 1- 4, 2021 • Marriott Hilton Head Island
For additional information regarding exhibiting at SCAC's Annual Conference, please contact Tish Anderson at tanderson@scac.sc.
---
Platinum Partners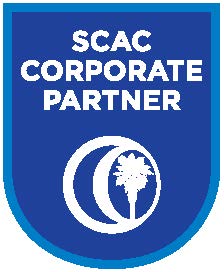 Gold Partners