Friday Report - March 17, 2023
The House passed the budget bill (H. 4300) after two days of robust debate and more than 90 amendments considered. The House increased funding to the Local Government Fund (LGF) representing full funding under the statutory formula. After giving the budget third reading on Wednesday, the House adjourned and will return March 28 following next week's furlough.
The Senate spent most of Tuesday debating the merits of the $1.2 billion incentive package (H. 3604) South Carolina offered to Scout Motors, Inc. to build a plant in Richland County. The incentive package has now been ratified and sent to Gov. Henry McMaster for his signature. On Wednesday, the Senate began debating a bill that would provide an income tax credit for parents of students that attend certain independent or home schools (S. 285). The Senate also confirmed the appointment of Todd McCaffrey as the Secretary for the South Carolina Department of Veterans Affairs.
Bills of interest are discussed below:
Revenue, Finance, and Economic Development
Budget – H. 4300. The House debated and passed the budget bill (H. 4300) this week. The House increased funding to the Local Government Fund (LGF) by $13,212,234 statewide. This represents full funding to the LGF under the statutory formula. The House also allocated $250 million in additional funds to County Transportation Committees for continued improvement of our roads.
Other funding of note in the House budget includes:
$124 million to cover a $2,500 base pay increase for state employees making under $83,000 and a 3 percent base pay increase for state employees making over $83,000;
$121 million for the state's share of the 3.8 percent increase in premiums under the State Health Plan, including expanded well visits, prescribed contraceptives for dependents, and annual gynecological visits for women;
$40 million to cover the state's share of the 1 percent retirement contribution increase;
$12 million to the Rural County Stabilization Fund;
$345,000 to registers of deeds;
$690,000 to coroners;
$690,000 to clerks of court;
$690,000 to sheriffs;
$690,000 to probate judges;
$1,063,214 to county auditors;
$1,063,213 to county treasurers;
$1.5 million to the Councils of Governments (COGs);
$1.6 million to coroners to fund the local child fatality review team program;
$750,000 for post-traumatic stress disorder treatment for first responders;
$3 million to Labor, Licensing and Regulation for the V-SAFE Fund;
$12 million for destination specific tourism grants;
$2 million in additional money for tourism promotions;
$20 million to the Office of Resiliency for disaster relief;
$18 million in additional money to the Conservation Bank for grant funding;
$3.784 million for the Firefighter Cancer Benefit Plan;
$4 million to the Department of Mental Health for an alternative transportation program; and
$400,000 to the Department of Public Safety for a mental health for incarcerated individuals pilot program.
Please thank the members of the House for keeping their promise to counties and working to return vital funding to county governments throughout the state!
In addition to the provisos that remain in the budget from last year, the House adopted the following new or amended provisos of interest:
1.SDE. SDE: Incentive Prohibition. Prohibits school districts, or any of their schools, from using state funds to offer students any monetary incentive or inducement to receive a COVID-19 vaccination.
24.64. DHEC: Grant Authority. Authorizes the Department of Health and Environmental Control to make grants to nonprofit organizations and governmental entities for public health and environmental programs. Directs the department to develop policies and procedures and promulgate regulations.
43.6. FC: Firefighting Equipment and Response Carry Forward. Authorizes the Forestry Commission to carry forward any unspent funds appropriated for firefighting equipment into the current fiscal year and to spend these funds for the same purpose.
49.16. PRT: Destination Specific Tourism. Amended to state that non-recurring funds appropriated to the Destination Specific Tourism Marketing grant program shall not be subject to a match requirement during the current fiscal year.
108.6. PEBA: State Health Plan. Amended to provide for an employer premium increase of 3.8 percent and a subscriber premium increase of 0 percent for the standard State Health Plan for Plan Year 2024.
108.16. PEBA: PORS and SCRS Return to Work. Amended to provide that for compensation earnings during the current fiscal year, the earnings limitation does not apply if compensation received by the retired member from the covered employer is for employment in a critical needs law enforcement position as determined by the Law Enforcement Training Council (LETC). This earnings limitation exception only applies to positions approved by action of the General Assembly for the fiscal year in response to a report listing positions of critical need that must be submitted by the LETC no later than January 1. The LETC must also develop guidelines and curriculum for officers to be recertified.
113.11. Short-term Rentals. Prohibits political subdivisions from enacting or enforcing an ordinance that prohibits short-term rentals unless the political subdivision also provides financial incentives for the purchase and rental of affordable housing and zoning allowances in exchange for an affordable covenant of at least twenty years. If a political subdivision violates this provision or enacts any such ordinance, the State Treasurer shall withhold their portion of the Local Government Fund. The proviso defines "short-term rental" as an individually or collectively owned residential house or dwelling unit or group of units that is rented wholly or partially for residential use for any period of time greater than three consecutive days.
American Rescue Plan Act (ARPA) Authorizations / "Project Connect" – H. 3604. This joint resolution, as drafted, authorized the expenditure of funds from the contingency reserve fund for economic development projects and federal funds disbursed to South Carolina in the American Rescue Plan Act of 2021.
The Senate amended the Joint Resolution to replace the ARPA language with the same language found in H. 4088, the "Project Connect" resolution. H. 3604 now appropriates $1.2 billion in incentives for certain infrastructure to foster economic development in South Carolina. Specifically, "Project Connect" details the incentive package to bring a Scout Motors, Inc. plant to the state. The plant will be located in Blythewood and is expected to create at least 4,000 jobs. The company has guaranteed a $2 billion investment in South Carolina and once completed, the plant is projected to produce more than 200,000 Scout vehicles annually.
The Senate gave H. 3604 second and third reading this week and sent the bill back to the House. The House concurred with the Senate amendments and the bill has been enrolled for ratification.
American Rescue Plan Act (ARPA) Authorizations – S. 604. This bill would authorize the expenditure of over $586 million in federal funds disbursed to South Carolina in the American Rescue Plan Act of 2021 and would specify the manner in which the funds may be expended. Under the bill, the money would be appropriated to the Rural Infrastructure Authority ARPA Water and Sewer Infrastructure Account, with $100 million made available for projects designated by the Secretary of Commerce as being significant to economic development. Up to $20 million would be available for each project with no local match requirement. Only existing grant applications, as of January 1, 2023, may be considered in determining disbursements. The Senate gave S. 604 second and third reading this week and sent the bill to the House.
Local Sales Tax Workforce Housing – S. 284. This bill would allow local accommodations and hospitality tax proceeds, as well as a special fund for tourism, to be used for workforce housing. It would also allow local governments to issue bonds to finance workforce housing projects. SCAC and Beaufort County Administrator, Eric Greenway, testified in support of the bill in a Senate Finance subcommittee on Tuesday. The Senate Finance subcommittee gave the bill a favorable report and S. 284 will be on the next full committee's agenda.
Public Safety, Corrections, and Judicial
Law Enforcement Personal Privacy Protection Act – S. 252. This bill would create the Law Enforcement Personal Privacy Protection Act, which would provide that any personal identifying information of an active law enforcement officer held or maintained by any state or local governing entity is confidential and must not be disclosed to the public if the officer has filed a formal request with the entity. Information that relates to the personal identifying information of the officer or that reveals whether the individual has family members is deemed confidential. Any government entity that redacts or withholds information under this article must provide the requestor a description of the redacted or withheld information. The Senate Judiciary Committee adopted a technical amendment and gave the bill a favorable report, as amended. S.252 is pending second reading on the Senate calendar.
Law Enforcement Death Benefits – S. 108. This bill would provide for a $150,000 death benefit for a law enforcement officer killed while in the line of duty. A Senate Finance subcommittee gave the bill a favorable report and S. 108 will be on the agenda at the next full committee meeting.
Alien Ownership of Real Property – S. 392 and S. 576. These bills would change the limit on the amount of property an alien or a corporation controlled by aliens can own in the state from 500,000 to 1,000 acres. Additionally, S. 576 would restrict corporations controlled by a foreign adversary from acquiring any interest in real property within the state.
S. 392 was given a favorable report by a Senate Judiciary subcommittee.
The Senate Judiciary Committee adopted amendments to S. 576 to clarify certain definitions and to allow a foreign adversary, who is also a U.S. citizen or U.S. resident and possesses a valid green card as a lawful permanent resident, to acquire no more than five acres for residential or recreational use, or five tax parcel properties not to exceed 25 acres for commercial use as a landlord or property manager. The Committee gave S. 576 a favorable report, as amended, and the bill is pending second reading on the Senate calendar.
Recovery Housing – S. 445. This bill would require the Department of Alcohol and Other Drug Abuse Services (DAODAS) to approve a credentialing entity to develop and administer a voluntary certification program for the housing of individuals recovering from alcohol or other substance abuse disorders. The Senate amended the bill to define the term "recovery housing" and to impose a civil penalty on an owner or operator who fails to certify such housing with DAODAS. The Senate gave S. 445 second and third reading and the bill was sent to the House.
Sexually Violent Predators Act – S. 146. This bill would amend the "Sexually Violent Predators Act," relating to the parole, release, and commitment procedures for people convicted of sexually violent offenses. Further, it would clarify whether or not a person meets the definition of a sexually violent predator and establish procedures for those individuals. The bill would also provide for supervised re-entry under certain circumstances. A Senate Judiciary subcommittee adopted technical amendments and gave the bill a favorable report, as amended. S.146 will be on the next full committee's agenda.
Destruction of Utility Systems – S. 330. This bill would modify the penalty structure for crimes involving malicious injury to telegraph, telephone, cable, or electrical utility systems and natural gas infrastructure. Under current, law, destruction of such systems or infrastructure is considered a felony offense that is punishable by a fine set at the discretion of the court or imprisonment for not more than 10 years. This legislation would create a tiered penalty structure based on the cost of damage to the utility systems, the danger to the public, and injury that involves death or bodily injury. S. 330 received second reading and is pending third reading on the Senate calendar.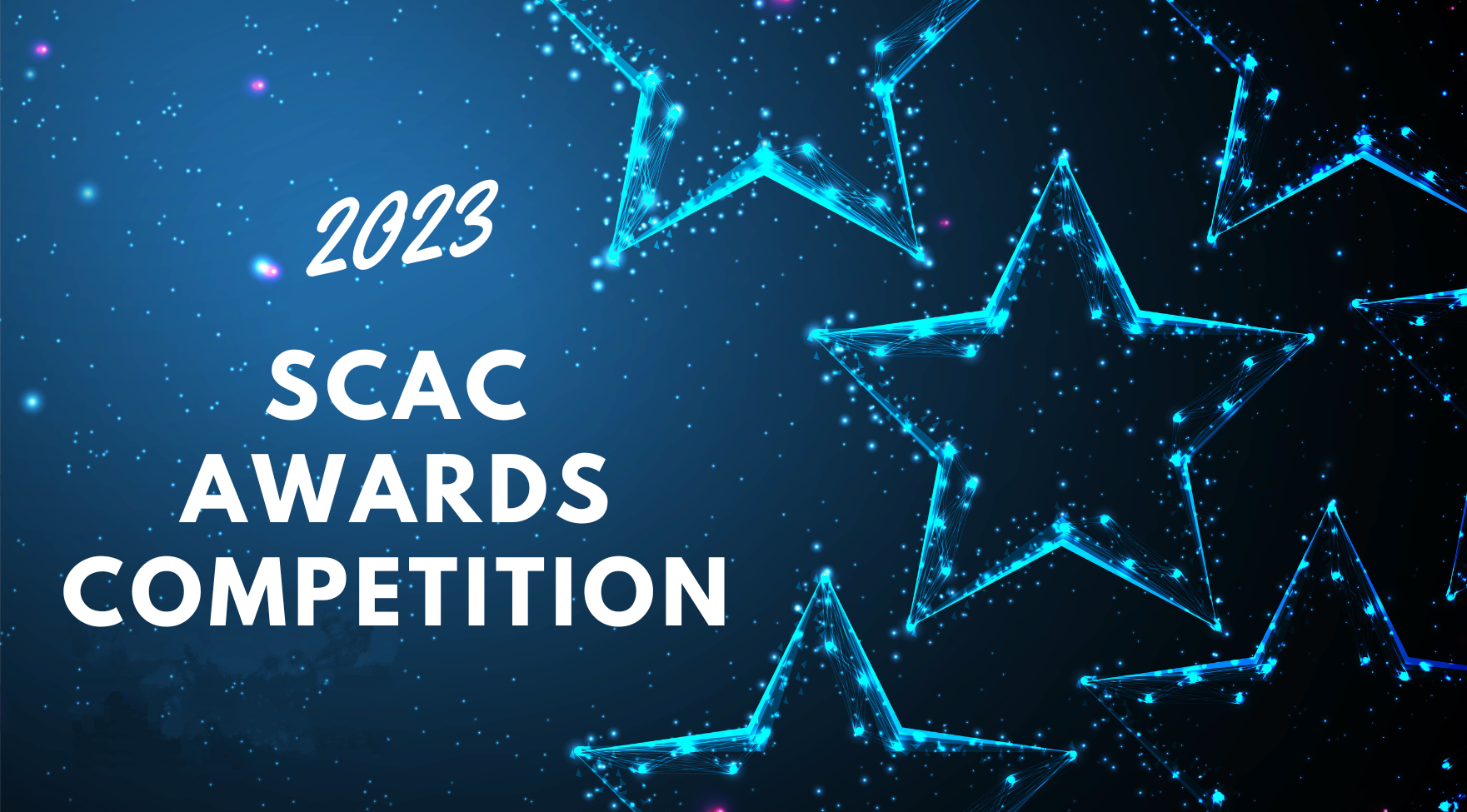 Call for Awards Entries
SCAC is currently accepting applications for the 2023 J. Mitchell Graham/Barrett Lawrimore Memorial Awards Competition. This is your county's opportunity to get recognized for outstanding efforts.
All applications must be submitted online or received at the SCAC Office by 5 p.m. Friday, April 21.
The competition will be held May 24 at SC ETV in Columbia. Learn more about the awards entry criteria and application process via SCAC's awards page. Here you can access a toolkit, see previous projects and submit your entry.
---
Newly-Introduced Legislation
Ratifications
The following bills have been passed by both chambers and have been sent to Gov. McMaster for approval or veto:
R4, S. 361 (Sens. Grooms and Scott) – An Act to amend Section 57-5-1630 to provide that the Department of Transportation Commission is not required to provide preapproval of construction contract extensions and to provide that the Commission must ratify extensions at the next Commission meeting.
R6, H. 3604 (Reps. Bannister, G.M. Smith and Murphy) – A Joint Resolution to appropriate funding for certain infrastructure and other purposes to foster economic development.