Friday Report - January 29, 2021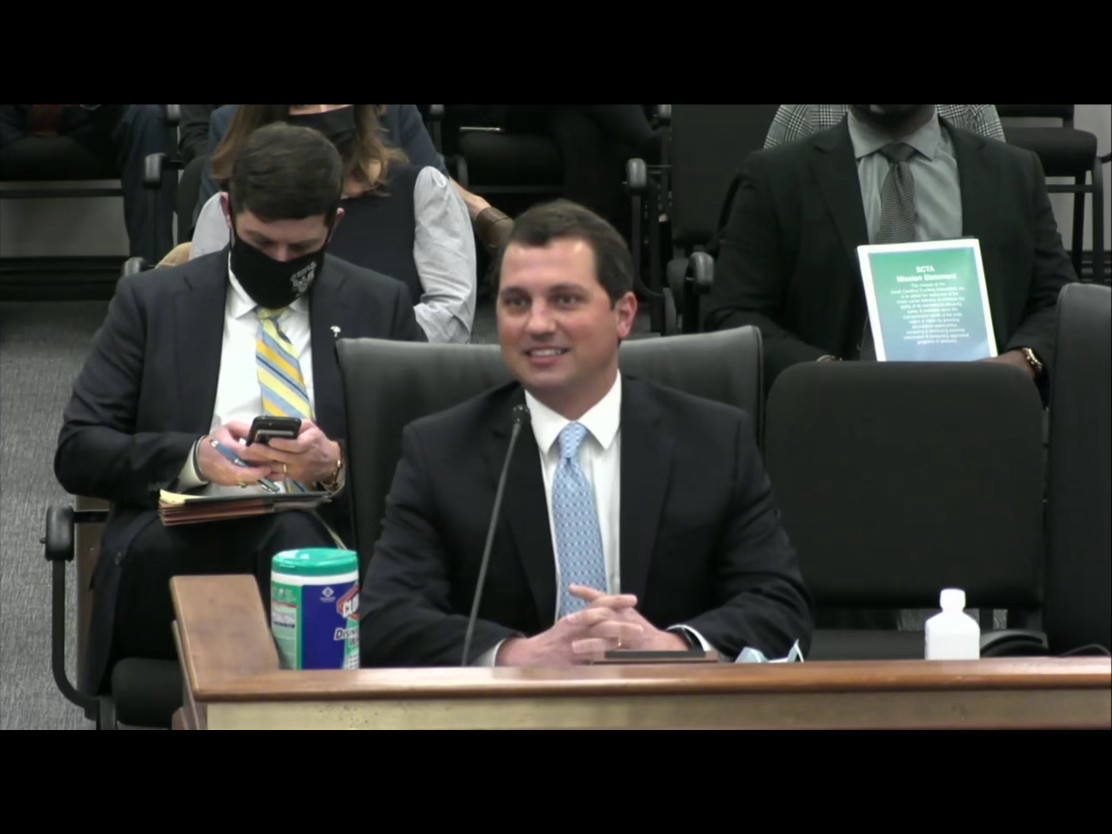 The General Assembly was back in full swing this week. Several bills moved out of committees, were debated, and passed from one chamber to the other. Much of the debate in the chambers dealt with Santee Cooper, abortion, and efforts to expedite COVID-19 vaccinations.
---
Revenue, Finance, and Economic Development
Budget and Provisos of Interest
While the House continues to work on the budget in subcommittees, here are some provisos of interest:
State Retirement System – Proviso 106.2. State law requires the employer contribution rate in the state retirement systems to increase 1 percent per year. A House Ways and Means subcommittee adopted Proviso 106.2 to meet that requirement. Pursuant to the proviso, the employer's contribution rate under the South Carolina Retirement System (SCRS) and the Police Officer Retirement System (PORS) will increase 1 percent for fiscal year 2021-2022.
Proviso 81.FR – First Responder PTSD Funds to FAST. This new proviso would direct the Department of Labor, Licensing and Regulation (LLR) to distribute first responder Post-Traumatic Stress Syndrome (PTSD) treatment funds to the S.C. Firefighters Assistant Support Team (FAST) to reimburse firefighters and EMTs who sustain a mental injury as a result of critical incidents that occur within their scope of employment. These funds would provide for out-of-pocket expenses that are not covered through workers' compensation and other insurance. This changes a previously adopted proviso (Proviso 62.23) that directed $500,000 to SLED for first responder PTSD treatment. Of that $500,000, half was distributed to the South Carolina Law Enforcement Assistance Program to reimburse law enforcement officers for out-of-pocket expenses for mental injuries sustained while in the scope of their employment, while the other half was distributed to South Carolina State Firefighters Association for the same purpose. The House Ways and Means Transportation subcommittee adopted this proviso.
Other Bills of Interest
Tort Claims Act – S. 82.S. 82 raises the existing caps on damages found in the Tort Claims Act (TCA) from $300,000 to $500,000 per individual, and from $600,000 to $1 million per occurrence. The bill also contains a provision to encourage settlement of litigation covered by the TCA. A Senate Judiciary subcommittee heard testimony from multiple groups, including SCAC, before carrying the bill over. This increase will still have a fiscal impact on county governments, but it is less severe than what was initially proposed last session.
COVID-19 Liability Safe Harbor – S. 147. This bill would enact the South Carolina COVID-19 Liability Safe Harbor Act to provide liability protections for a limited time period for health care providers and businesses that follow public health guidance in response to the coronavirus public health emergency. Counties are listed as "covered entities" under the bill and therefore county employees are "covered individuals." A Senate Judiciary subcommittee carried S. 147 over to allow for more discussion pertaining to the burden of proof that must be met for violation of the Act.
Santee Cooper – H. 3194. This bill, as amended, would reform Santee Cooper while also keeping the option to sell Santee Cooper open. H. 3194 passed the House and is now pending in the Senate Judiciary Committee.
---
Land Use, Natural Resources and Transportation
Waste Tire Regulations — H. 3222. This bill would increase the criminal penalties for violating waste tire regulations and also authorizes the Department of Health and Environmental Control (DHEC) to promulgate additional regulations, an SCAC policy position. These additional regulations will allow DHEC to inspect waste tire processing facilities to ensure compliance and invoke sanctions for noncompliant recyclers. The House Agriculture, Natural Resources and Environmental Affairs Committee gave H. 3222 a favorable report and the bill is pending second reading on the House calendar.
Abandoned Buildings – S. 271. This bill expands the South Carolina Abandoned Buildings Revitalization Act until December 31, 2025. A Senate Finance subcommittee gave S. 271 a favorable report and it will be on the agenda for the next full committee meeting.
---
Public Safety, Corrections and Judicial
Police Dogs and Horses – S. 378. This bill will amend current law relating to teasing, maltreating, or injuring police dogs and horses. Persons who are convicted of such crimes would be required to pay restitution to the appropriate law enforcement agency to cover the full cost of restoring or replacing a police dog or horse and may be ordered to complete up to 500 hours of community service with an animal-related organization. The Senate Agriculture and Natural Resources Committee amended the sentencing portion of the bill to provide for a maximum of five years imprisonment and eliminated the mandatory minimum one-year sentencing. The committee gave S. 378 a favorable report as amended and the bill will be placed on the Senate calendar.
---
County Government and Intergovernmental
COVID-19 Vaccination – H. 3602 & H. 3707. H. 3602 would expand who may administer the COVID-19 vaccine to include among others, medical students, retired nurses, physician assistants, as well as dentists and optometrists. H. 3707 is the Ways and Means Committee bill that includes the language from H. 3602 and appropriates $208 million toward advancing the COVID-19 vaccine rollout. Specifically, H. 3707 does the following:
• Allocates $63 million to the South Carolina Department of Health and Environmental Control (DHEC) and $45 million to the Medical University of South Carolina (MUSC) to ramp up the vaccine.
• Allocates $100 million to the COVID-19 Vaccine Reserve Account to be established by the Executive Budget Office.
• Vaccines would be distributed based on four DHEC regions rather than by county.
• Regional healthcare providers would meet and report to DHEC weekly.
• DHEC would provide a daily report.
H. 3602 passed the House and is pending in the Senate Medical Affairs Committee. H. 3707 has also passed the House and is pending in the Senate Finance Committee.
Gubernatorial Proclamations of Emergency – H. 3443. This bill would further define the Governor's declaration of emergency powers and the legislative branch's role with any proclamation beyond 30 days. Pursuant to this bill, 30 days after the Governor has declared a state of emergency, the South Carolina General Assembly could, by concurrent resolution, terminate, alter, amend, or consent to the terms of any declaration of emergency. The bill would further define the limitations on the Governor declaring successive states of emergency. During the full House Judiciary Committee meeting, an amendment was offered to make the current language constitutional by creating a bifurcated process related to the South Carolina General Assembly's review of a Governor's declared state of emergency. More specifically, the amendment indicates that the General Assembly could, by concurrent resolution, consent to, or terminate the terms of any declaration of emergency. Further, the General Assembly could, by joint resolution, alter or amend the terms of any declaration of emergency. The amendment was adopted, and the House Judiciary Committee gave H. 3443 a favorable report, as amended. H. 3443 has been forwarded to the House for further debate.
---
Newly-Introduced Legislation
View/Download Full Text for Newly-Introduced Legislation
Note: If you would like to offer comments to the SCAC staff, please call us toll-free at 1-800-922-6081, fax to (803) 252-0379, or send an email. You can also go to www.scstatehouse.gov and click on "Legislation," then "Introduced Legislation."
Senate Bills
S. 484 — Provides for a reduction in the sentence of an inmate convicted of certain "no parole offenses" upon satisfying certain conditions.
S. 489 — Provides circumstances in which professional employer organizations may be eligible for certain tax credits and economic incentives under the Enterprise Zone Act of 1995.
S. 491 — Authorizes the issuance of not exceeding $550,000,000 aggregate principal amount of general obligation state economic development bonds and supplementing the provisions of Chapter 41, Title 11 for the limited purpose of defraying the cost of intermodal container transfer infrastructure, waterborne cargo infrastructure, and related infrastructure in support thereof, at or in the vicinity of the port of Charleston.
S. 498 — Provides that political subdivisions of this state may not enact any laws, ordinances, or rules pertaining to the ingredients, flavors, or licensing of cigarettes, electronic smoking devices, e-liquid, vapor products, tobacco products, alternative nicotine products, or certain products containing nicotine.
S. 499 — Enacts the "South Carolina Election Commission Restructuring Act".
S. 501 — Includes relevant citations, relating to issuing insurance, which are not subject to the enumerated rate-filing limitations.
S. 505 — Provides that a person who owns or operates a website dealing in electronic dissemination of third-party commercial recordings or audiovisual works shall make certain disclosures.
House Bills
H. 3700 — Adds section 15-1-350 so as to establish requirements for demands for personal injury, bodily injury, property damage, or wrongful death.
H. 3706 — Credits the proceeds of property taxes on airlines to the State Aviation Fund.
H. 3707 — Makes appropriations for the state's public health response to the COVID-19 virus, including vaccinations.
H. 3708 — Expands the parameters of the offense relating to the unlawful possession of a firearm or ammunition by a person convicted of a violent crime to include persons convicted of a crime punishable by imprisonment of more than one year.
H. 3709 — Changes the age that a certain 1 percent sales tax does not apply forindividuals over the age of 85 to individuals over the age of 70.
H. 3710 — Proposes an amendment to Section 20, Article I of the Constitution of South Carolina, 1895, relating to the right to keep and bear arms, so as to provide that every citizen has the fundamental and inalienable right to bear arms in defense of himself and the state, and any restriction on this right shall be subject to strict scrutiny.
H. 3711 — Provides that COVID-19 vaccinations are purely voluntary and that an employer cannot take an adverse employment action against an employee who chooses not to undergo a COVID-19 vaccination.
H. 3723 — Provides certain law enforcement officers shall complete continuing law enforcement education credits in racial sensitivity over a three-year recertification period.
H. 3724 — Provides that the director of the South Carolina Criminal Justice Academy may accept for training as a law enforcement officer an applicant who has obtained an associate degree or is enrolled in an associate degree program.
H. 3725 — Provides that law enforcement agencies having an officer as a candidate for certification shall submit to the director of the South Carolina Criminal Justice Academy a certificate of a licensed psychiatrist that the candidate recently has undergone a complete psychiatric examination and its results, and evidence satisfactory to the director that a search of prior complaints and disciplinary actions against the candidate reveals no major infractions.
H. 3726 — Excludes amounts received from a buydown from the definition of "gross proceeds of sales".
H. 3727 — Authorizes a county or municipality to allow animal control officers to carry firearms.
H. 3728 — Creates the offense of threatening to kill or inflict bodily harm to a public official, public employee, teacher, principal, or immediate family member of one of these when the threat is accompanied by an overt act and directly related to the professional responsibilities of the official.
H. 3732 — Requires the Department of Health and Environmental Control to add custodial workers to phase 1a of the state's COVID-19 vaccine plan for purposes of vaccine rollout of initial vaccine doses.
H. 3733 — Provides for clerks of court to have charge of those areas of a courthouse which are designated by the county governing body for use by agencies and departments which are under the jurisdiction of court administration.
H. 3741 — Provides a penalty for a violation of the section relating to the regulation of the ownership, transfer, or possession of a firearm or ammunition, and a landowner discharging a firearm on his property under certain circumstances.
H. 3743 — Prohibits the use of public funds to contract with a person whose activities include lobbying.
H. 3745 — Provides that a tax or license fee may not be imposed, levied, or the effective rate of any tax levied or license fee imposed may not be increased except upon passage of an act which has received a two-thirds vote on the third reading of the bill in each branch of the General Assembly.
H. 3748 — Requires individual and group health insurance and health maintenance organizations to cover annual well-woman examinations.
H. 3750 — Includes persons or entities for the purposes of allocation of fault as it relates to the South Carolina Contribution Among Tortfeasors Act.
H. 3753 — Provides that post-use polymers and recoverable feedstocks used in pyrolysis and gasification processes are "recovered materials" and are not "solid waste" for the purposes of regulation by the Department of Health and Environmental Control.
H. 3755 — Provides that a person sentenced to death may elect for electrocution or lethal injection if lethal injection is available at the time of election.
H. 3764 — Affirms the commitment of the South Carolina House of Representatives toward defending democratic institutions, ending the spread of hate, bigotry, and harassment, and condemning extremism in its many forms.
H. 3765 — Authorizes an innkeeper to request assistance from law enforcement to eject a person and to provide that a person ejected from a campground has 10 days to make a claim for property left at the time of ejectment.
H. 3766 — Renames the Chapter 1, Title 44 to the "Department of Public Health" and reorganizes the chapter to abolish the Department and Board of Health and Environmental Control.
H. 3770 — Authorizes the use of federal funds from the Emergency Rental Assistance Program and provides the manner in which the funds must be distributed.
H. 3771 — Provides that any pooling precinct in municipal elections containing 3,000 or more voters, an increase from 500 or more voters, has its own polling place.
H. 3775 — Provides that no health benefit plan may require an insured to fail to successfully respond to a drug or drugs for stage four advanced, metastatic cancer prior to the approval of a drug prescribed by his or her physician.
Ratifications
The following bill has been passed by both chambers and is now before the Governor for signature or veto:
(R. 1) H. 3481. Suspends the statutory transfer of funds from the operating account for the state's employee health insurance program to the South Carolina Retiree Health Insurance Trust Fund for Fiscal Year 2020-2021. Establishes the Solid Waste Emergency Fund.