Friday Report - February 7, 2020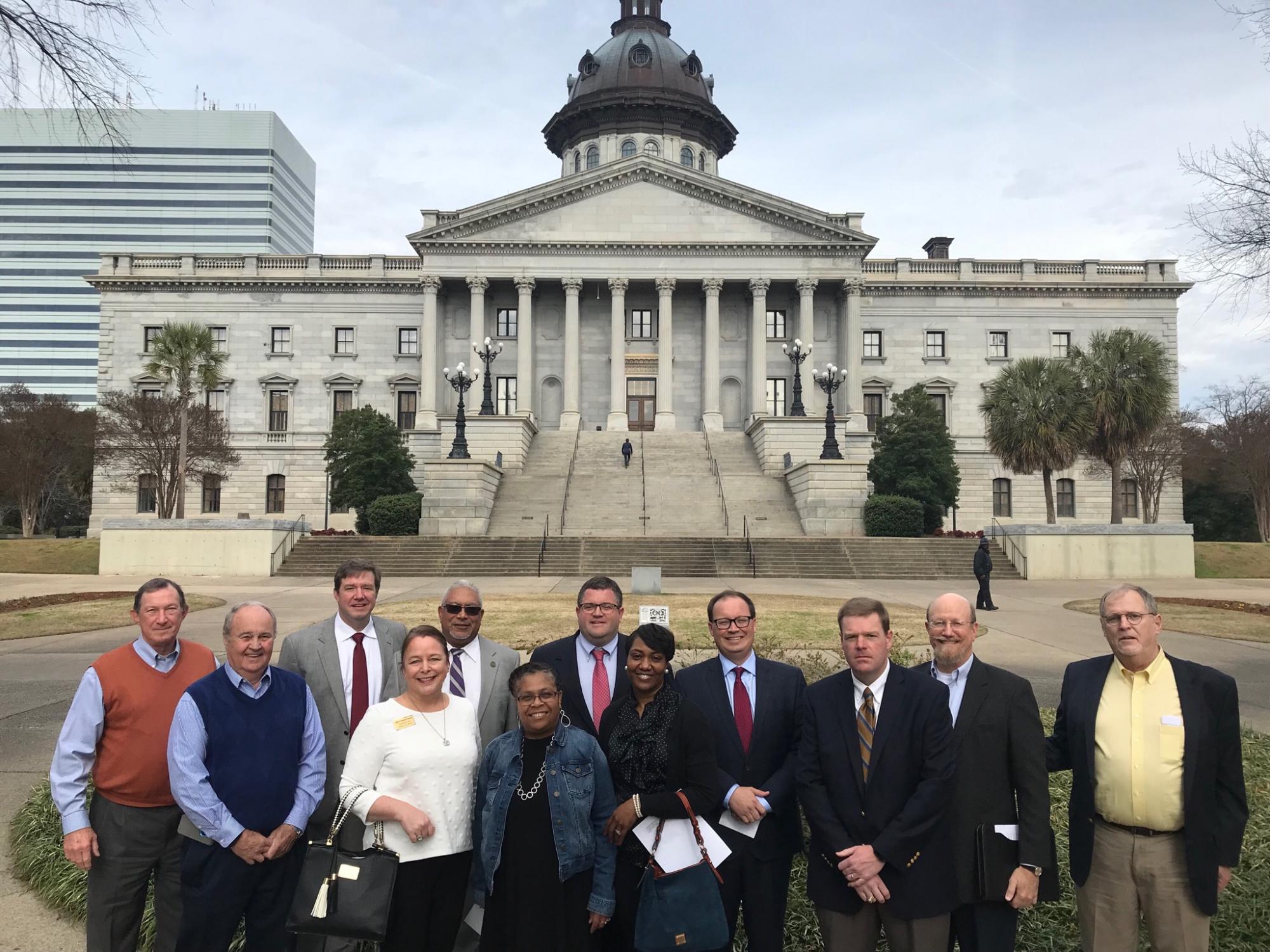 The South Carolina Auditors, Treasurers, and Tax Collectors (SCATT) gathered at the statehouse this week to discuss various bills with members of the General Assembly.
SCAC's Mid-Year Conference, scheduled for Wednesday, Feb. 19, provides an excellent opportunity to meet with your legislators and discuss issues important to your county. See the detailed information regarding the conference and the Institute classes that follows the legislative items in this week's Friday Report.


---
Revenue, Finance, and Economic Development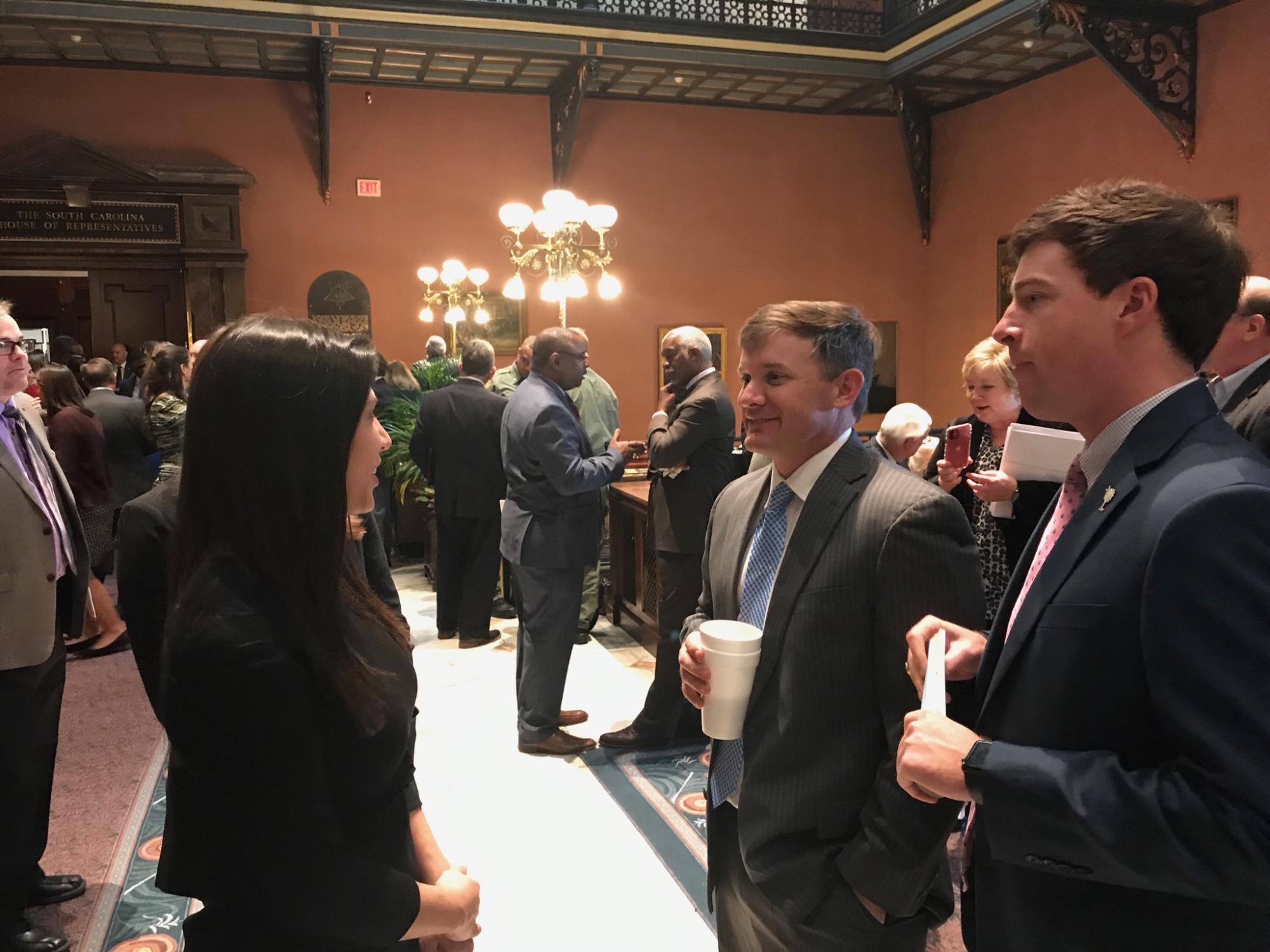 Property Assessment — S. 545. This bill would require the Department of Revenue to follow certain North American classification system manual provisions. It also repeals a provision relating to the appraisal and assessment of personal property of businesses under the jurisdiction of the county auditor, which SCAC opposes. The Senate Finance Committee adopted a compromise amendment to create a form, with input from all interested parties as to content, that would be consistent with the state form that the Department of Revenue utilizes. Currently, the form utilized by each county varies. This agreement preserves the auditor's authority to assess this property, an SCAC policy position. The committee adopted the amendments and gave the bill a favorable report. The bill is pending second reading on the Senate calendar.


---
Land Use, Natural Resources and Transportation
Billboard Obstruction Liability – S. 1084. This bill provides that if an outdoor advertising sign is obstructed by a sound barrier that is constructed by the Department of Transportation or a political subdivision along an interstate, federal-aid primary or highway, the department or political subdivision must provide compensation to the owner of the sign if certain conditions are met. The compensation must include damage to the landowner's property as a result of the removal of the sign as well. The Department of Transportation liability is limited to $5 million. The bill does not specifically limit county liability. S. 1084 was introduced this week and is scheduled for a Senate Transportation subcommittee hearing next Wednesday, February 12 at 11:00 am.
High Mileage — H. 3695. This bill provides that for the sole purpose of determining high mileage tax deductions, motorcycle and motorcycle three-wheel vehicles shall be classified as private passenger vehicles. The Senate Transportation Committee gave H. 3695 a favorable report and it is pending second reading on the Senate calendar.
Small Cells — H. 4262. This legislation would enact the Small Wireless Facilities Deployment Act, the intent of which is to accelerate the placement of small cell technology in South Carolina. Small cells "boot strap" off of cellular towers to provide greater capacity to users within a dense community. Therefore, the legislation is aimed at allowing wireless providers to readily place this technology in municipalities. Generally, the more rapid placement of technology in dense communities allows the providers to then move this technology into rural areas. Additionally, small cell technology allows less stress to be placed on existing cellular towers, which should enhance the ability for these towers to serve communities outside municipalities. The House amended the bill so that any agreement between a local government and a wireless provider after December 31, 2019, must comply with the provisions of this legislation. A local government would be prohibited from not allowing the placement of small cell technology within their jurisdiction. The bill requires the provider to blend their technology with local aesthetics and sets a fee structure for payment to local governments for placement of small cells. After taking extensive testimony, a Senate Judiciary subcommittee carried over the bill to work on additional amendments.


---
Public Safety, Corrections and Judicial
Arrest Records — H. 3066. This bill, as introduced, would prohibit a law enforcement or prosecution agency from charging or collecting a fee for the destruction of arrest records for persons arrested as a result of mistaken identity. The House Judiciary Committee gave the bill a favorable report and amended the bill by adding that if an individual is arrested and there is no disposition, the charged individual may petition the solicitor to have their arrest record expunged.
First Responder Civil Liability and Pets — H. 3373. This bill would provide immunity from civil liability to a first responder for damage resulting from providing first aid services to a domestic animal in the course of responding to an emergency. A House Judiciary subcommittee gave the bill a favorable report. This bill will be on the next full Judiciary Committee meeting agenda.


---
SCAC's Mid-Year Conference and Institute of Government Classes
The SCAC Mid-Year Conference will be held at the Embassy Suites Hotel in Columbia on Wednesday, February 19. Copies of the registration material and conference agenda are available on the SCAC website where you can also register online. The program will include a legislative panel and other timely topics. Following lunch, buses will provide transportation to the State House for visits with legislators. The legislative reception will be Wednesday evening from 5:00 to 7:00 p.m. at The Palmetto Club in downtown Columbia. Now is the time to set up appointments to see your Senators and Representatives or arranging a joint meal, function, or meeting.
The Institute of Government classes are being offered on Thursday, February 20 and include: Employment Law: What Counties Need to Know, Measuring and Reporting County Performance, The Property Taxation Process, and Understanding and Seeking Differences. The Council Chairperson's Workshop will be offered free-of-charge on Thursday, February 20, from 10:00 a.m. - 1:00 p.m. This workshop is open to all council chairmen and vice chairmen and registration is required. You may register for the Institute classes and the Council Chairperson's Workshop on the SCAC website.


---
Newly-Introduced Legislation
View/Download Full Text for Newly-Introduced Legislation
Note: If you would like to offer comments to the SCAC staff, please call us toll-free at 1-800-922-6081, fax to (803) 252-0379, or send an email. You can also go to www.scstatehouse.gov and click on "Legislation," then "Introduced Legislation."
Senate Bills
S. 1071 — Establishes the "Firefighter Cancer Health Care Benefit Plan" to provide a supplemental insurance policy upon a firefighter being diagnosed with cancer.

S. 1076 — Enacts the "Broadband Accessibility Act".
S. 1080 — Enacts the "Broadband Accessibility Act".
S. 1084 — Provides that an owner of an outdoor advertising sign shall have the option to relocate or adjust the sign if the sign is obstructed by the construction of a sound barrier and the cost of relocating or adjusting the sign shall be paid by the entity responsible for the construction of the sound barrier.
S. 1088 — Establishes the "South Carolina Work and Save Retirement Savings Plan."
House Bills
H. 5090 — Provides that, after July 1, 2020, a person may not be elected or appointed to a judicial office that is filled by election or appointment of the General Assembly if that person is an immediate family member of a sitting member of the General Assembly, or a former member of the General Assembly whose most recent term of legislative service ended less than one year prior to the General Assembly's election or appointment of the office in question.
H. 5109 — Provides that a noncertified law enforcement officer shall only perform his duties as a law enforcement officer while accompanied by a certified law enforcement officer.
H. 5110 — Requires coroners to release certain human remains that have been determined to be those of an unclaimed deceased veteran to a funeral home, funeral establishment, or mortuary for disposition pursuant to the provisions of Chapter 12, Title 25.
H. 5111 — Provides that no county tax official may collect or attempt to collect a property tax payment on a boat, boat motor, or watercraft if property taxes were due, without penalty, on the same property within a 12 month period and no tax is owed.
H. 5113 — Requires all individual and group health insurance, health maintenance organizations, and the State Health Plan to cap an insured's monthly cost-sharing obligation for covered prescription insulin drugs.