Friday Report - March 25, 2022
This session of the General Assembly is getting closer to winding down. With only a couple of weeks left before crossover (bills moving from one chamber to the other), time is running out to get legislation passed. The House was on furlough, while the Senate spent most of the week debating an education spending bill.
Several bills of note will be discussed below in this week's
Friday Report
.
Revenue, Finance and Economic Development
User Fee Authorization – S. 984. S. 984 is in response to the June 30, 2021, SC Supreme Court decision in Burns v. Greenville County, which imperils various user fees, especially road use fees, imposed by counties and cities in South Carolina. Prior to this decision, user fees were analyzed under the Brown test that found a fee to be valid if:
the revenue generated is used to the benefit of the payers, even if the general public also benefits;
the revenue generated is used only for the specific improvement contemplated;
the revenue generated by the fee does not exceed the cost of the improvement; and
the fee is uniformly imposed on all the payers.
Under the newly imposed Burns test, fees must benefit fee payers differently than the general public regardless of the purpose of the fee or how it benefits the fee payer. S. 984 would legislatively reinstate the Brown test and allow the general public to benefit from a user fee provided the fee payer benefits and the other elements of the Brown tests are met. The Senate Finance Sales and Income Tax subcommittee gave the bill a favorable report. S. 984 will be on the full committee's agenda next Tuesday. SCAC would like to give special thanks to Greenville County Council member Butch Kirven, Horry County Administrator Steve Gosnell, Horry County Attorney Arrigo Carotti, Horry County Finance Director Barry Spivey, Beaufort Administrator Eric Greenway, and Clarendon County Deputy Administrator Ted Felder for attending the meeting and testifying in support of S. 984. Their presence and testimony made a difference in moving this bill out of subcommittee.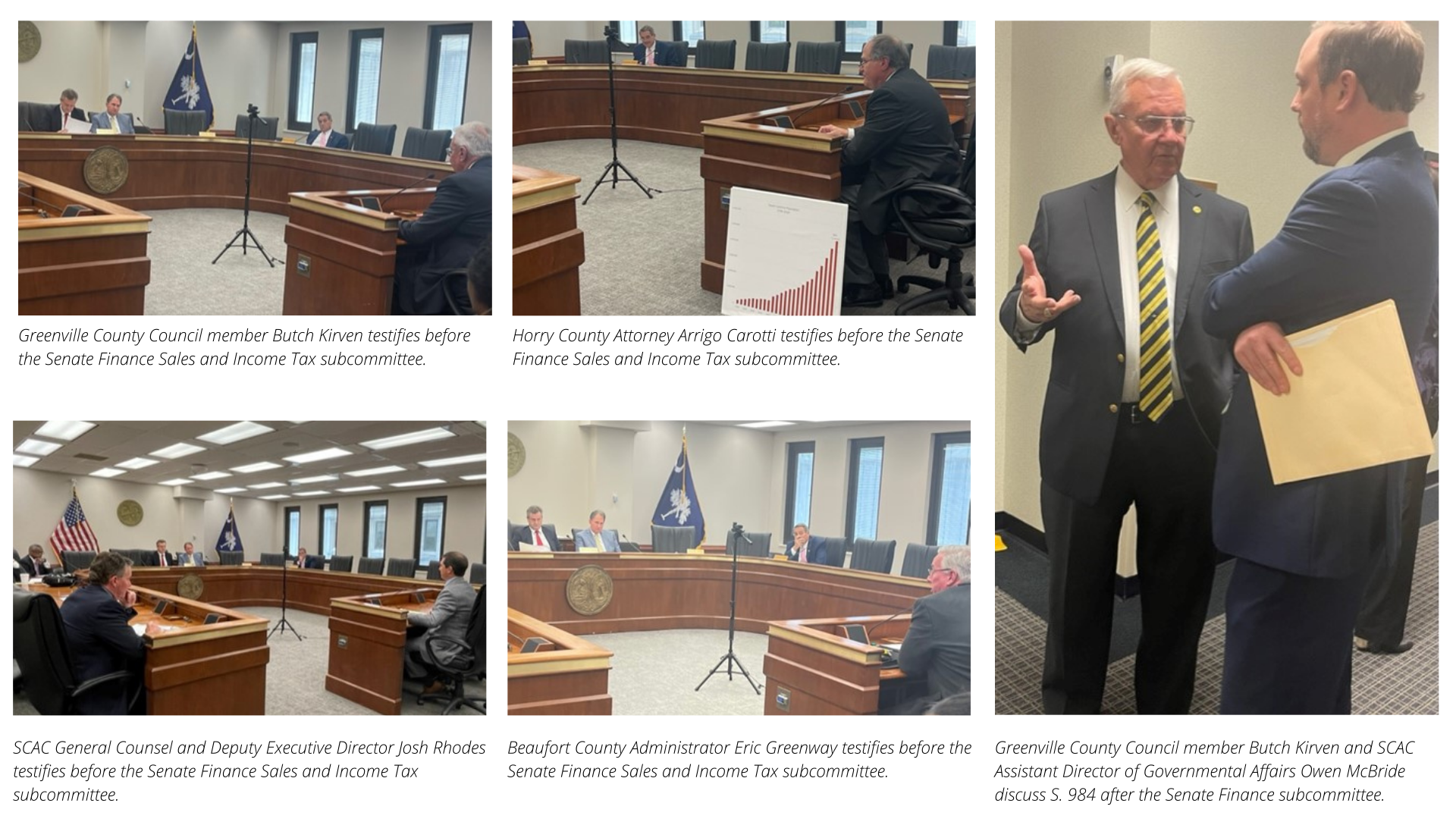 Housing Tax Credits – S. 1120. A Senate Finance subcommittee met this week on S. 1120, a bill that would cap the state's Workforce and Senior Affordable Housing Tax Credit Program at $15 million each year. In January, a moratorium was put in place on this tax credit program after demand exceeded financial expectations by hundreds of millions of dollars. As amended, this legislation would preserve no less than 50 percent of the $15 million cap specifically for projects in rural areas that apply for the 9 percent federal low-income housing tax credit. A new scoring program through the Joint Bond Review Committee would also be implemented to award funds to projects that are deemed to be the highest priority setting up a more competitive process for developers to receive tax credits. S. 1120 received a favorable report as amended and will be on the agenda at the full Senate Finance Committee's next meeting. The companion House bill, H. 5075, remains pending in a House Ways and Means subcommittee.
Public Safety, Corrections and Judicial
"Sexually Violent Predators Act" – S. 659. This bill amends the "Sexually Violent Predators Act," relating to the parole, release, and commitment procedures for persons convicted of sexually violent offenses. Further, it clarifies whether or not a person meets the definition of a sexually violent predator and establishes procedures for those persons. The bill also defines new terms and provides for supervised re-entry. The Senate gave the bill second and third readings and the bill has been sent to the House.
Corrections Officer Age –
S. 1092
.
This bill would require a detention or correctional officer to be at least 18 years of age at the time of employment. Further, the bill also exempts correctional officers employed by the Department of Juvenile Justice from this requirement. The Senate gave the bill second and third readings and the bill has been sent to the House.
Juvenile Justice Reform – S. 53. This bill would provide for comprehensive juvenile justice reform. A Senate Judiciary subcommittee amended the bill with a strike and insert and gave S. 53 a favorable report as amended.
Children in Adult Confinement –
S. 22
This bill would require a juvenile that is being held in an adult jail or detention center must not be held in the facility for more than six hours and must be completely separated from the adults confined in the jail or detention center. It would also reduce the time a juvenile may be held in a juvenile detention for a status offense from 72 hours to 48 hours. A Senate Judiciary subcommittee gave the bill a favorable report.
J. Mitchell Graham/Barrett Lawrimore Memorial Awards Call for Entries
The Association is currently accepting applications for the 2022 J. Mitchell Graham/Barrett Lawrimore Memorial Regional Awards Competition. All applications must be submitted online or received at the SCAC Office by 5 p.m. on Friday, May 6. Applicants who meet the submission deadline and all requirements will be scheduled to present their projects in-person on June 9 at SC ETV in Columbia. The competition will be livestreamed, and award winners will be announced during the 2022 Annual Conference.
For more information about the competition and how to apply, please see the 2022 Awards Brochure and the Awards Toolkit on the Association's website. If you have additional questions, please contact Susan Turkopuls at STurkopuls@scac.sc.
---
Newly-Introduced Legislation
View/Download Full Text for Newly-Introduced Legislation
Note: If you would like to offer comments to the SCAC staff, please call us toll-free at 1-800-922-6081, fax to (803) 252-0379, or send an email. You can also go to www.scstatehouse.gov and click on "Legislation," then "Introduced Legislation."
Senate Bills
S. 1189 — Increases the maximum annual tax credit amount from $400,000 to $600,000 relating to state license tax credits that are allowed to certain taxpayers for contributions to qualifying infrastructure and economic development projects.
S. 1190 — Transfers certain responsibilities and authority over the regulation of controlled substances from DHEC to the State Board of Pharmacy.
S. 1198 — Provides that hospitals may distribute opioid antidotes.
S. 1203 — Enacts the "South Carolina Opioid Recovery Act."